Very seldom in history does an opportunity arise where a
market traditionally controlled and monopolized by large corporations becomes
accessible to smaller organizations. Over the last 5 years the traditional
telecom companies and carriers share of the telephone market has shrunk
significantly as upstart cellular and VoIP competitors continue to gain ground.

VoIP, or Voice over Internet Protocol, is the fastest growing trend
in telephony. In short, VoIP is the routing of voice conversations over
the Internet or through any other IP-based network.

Conventional standard telephone lines are not using VoIP,
they are referred to as PSTN or the Public Switched Telephone Network. PSTN
works on circuit switching. However, VoIP is Packet Switching. Packet Switching
consists of data packets, or packets of information being carried across the
Internet, from your computer or IP Phone to either another computer, IP Phone or
the traditional PSTN network via a VoIP Gateway. A VoIP Gateway converts
traditional PSTN voice circuits to VoIP and the reverse.



VoIP operates in different forms, one you may familiarize is
that the VoIP service when you use an Instant Messaging program with voice on
your computer, such as MSN and Yahoo Messenger. They are something like VoIP
Instant Messaging programs. Another method of VoIP technology is to use a VoIP
service provider for your basic and complex PBX telephony needs. VoIP has
revolutionized our way of communicating.



VoIP is important to life. For a monthly fee, you will
receive VoIP services, the same as you pay for your regular telephone services.
A VoIP phone is like a regular phone except it uses high speed Internet to make
calls at a fraction of the cost or for free between .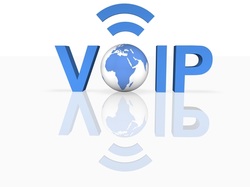 ---